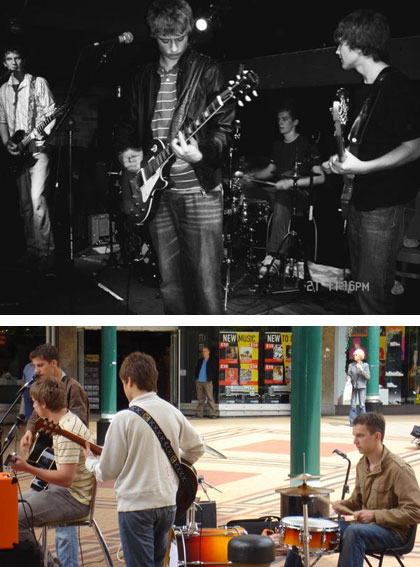 HISTORY
Andrew Travers was a student at Southam College from September 2000 to June 2007 and was attending the Sixth Form, studying 'A' Levels. He was tragically involved in a fatal car accident and died on 15th June 2007.

Andrew was a prodigious musical talent, playing the drums and studying Music at Southam College. He had been a member of the College Band for various productions, most notably the 'Rock Showcase' of December 2005 and was one of the founding members of the Band 'Old Ricoh', along with his close friend Matt Neal and his brother Peter.
Andrew practised relentlessly, often driving his Mother to distraction, however, it proved worthwhile as his talent flowered and the Group went from strength to strength. Andrew had managed to combine his greatest loves by working at the home of his beloved Coventry City, the 'Ricoh Arena', on Match days, gaining Vocational Work Experience at 'Dr-ums' drum shop in Leamington Spa and playing with his Band.

Since 2007 the family and friends of Andrew have organised a Memorial Concert which combined a back drop to remember and celebrate Andrews's life and musical achievement as well as provide an opportunity to raise funds for the growing Andrew Travers Memorial Fund.
Roll of Honour
Names of award recepients as follows : Harvy Castletine, Jack Crossan and Ben Start a 3 Piece Group who played at the following years memorial concert won in 2008. Lizzie Harding Ritson won the award in 2009 and 2010 and used the funds to take Keyboard Lessons.
2010 – Peter Thompson
2011 – Elizabeth Harding-Ritson
2012 – Tom Bisiker